As mentioned previously, part of my contingency plan will be to volunteer this summer in Tanzania. I'm using an organization called
Projects Abroad
, which coordinates volunteers who can finance their own trip to work on any of over 200 different projects in 60 countries – part of the recent "
voluntourism
" trend, an encouraging if somewhat controversial phenomenon (but more on that later).
I'll be working on two different projects. For six weeks I'll serve as an extra pair of hands at a "care center" which is essentially an orphanage, followed by four weeks building water collection and sanitation system. All the Tanzania projects are located in the city of
Arusha
, a significant factor in how I came to choose Tanzania in the first place.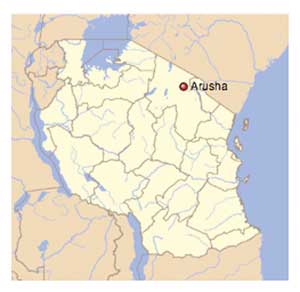 For one, Arusha is a highland city, and so their climate is quite pleasant, especially this time of year – our summer is their cool, dry season. Also, Arusha happens to be a great launch pad for doing fun touristy things in my final two weeks, in particular going on safari through Serengeti national park and
possibly
climbing Mt. Kilimanjaro. From here I can even take a short flight out to visit the island province of Zanzibar, a small tropical paradise that is also perhaps the richest concentration of Tanzanian culture and history one can find, or a certain slice of it, anyway.
As far as why I chose Africa, I'm not entirely sure, but I think I have this sense that Africa will provide the greatest culture shock without killing my resolve to absorb and adapt to it. I am absolutely seeking stimulation first and foremost on this trip, and I can't do that without challenging myself. But a recent vacation to Spain taught me that even a week of fighting a language barrier can be overwhelming and draining. English is spoken widely (to varying degrees) in Tanzanian cities, and my understanding is that Tanzanian citizens are often very eager to practice their English in conversation with a native speaker.
What's more, Tanzanians are highly receptive to even modest efforts to learn Swahili, the national language—can you imagine if foreigners struggling through their first words of English were greeted with the same level of enthusiasm in America?
I know from past experience that learning languages is especially difficult for me, and these are exactly the optimal conditions I may need to finally pick a language up that will actually stick with me for a while and not have it be a grueling, unpleasant experience. Words in Swahili are almost always spelled as they sound, and basic rules of pronunciation and grammar are highly consistent, with very few exceptions to confuse things. Over the last few weeks I've been trying to get a head start by listening to language-learning podcasts, and I've actually found it fun. Very promising!